Most of our yurts are sited in small groups offering a pleasant village atmosphere whilst allowing guests their own space. But for those seeking more solitude, we have yurts sited remotely in a tranquil woodland setting.
To Yurtcamp Devon
Yurtcamp Devon is the ultimate glamorous camping, or glamping, yurt holiday and wedding venue for those who seek the simplicity of living under canvas without giving up the quality and comfort of more conventional holidays.
Come glamping / get married at Yurtcamp - Glamping has become very popular in recent years, and Yurtcamp has been there since the start of the glamping holiday movement. We are always looking for ways to make glamping in Devon at Yurtcamp more glamorous...
Our glamping site has twenty two contemporary yurts of two sizes set in forty acres of beautiful Devon woodland. The smaller yurts are ideal for couples, and the larger yurts ideal for up to six to accommodate family and friends. Each yurt has a log burner and is fully equipped for cooking, sleeping and relaxing in, and has access to an outdoor fire pit, for campfires and barbecues.
Yurtcamp is available for wedding receptions, parties, corporate events, Wakes and many other functions.
The on-site café bar, The Woodland Cafe, is fully licensed for alcohol, live and recorded music and singing and dancing. We also offer full catering facilities, including hog roasts, to compliment your event.
The yurts can accommodate groups from ten to ninety people, and large groups are able to book the whole site. This facility is quite popular so booking well in advance for parties requiring three or more yurts is recommended. We regret we do not cater for all male groups.
For events such as wedding receptions, parties and corporate functions we have a Wedding Barn and a Norwegian Giant Tipi which accommodate up to one hundred and twenty people.
We do more...
From Corporate Days to Team Building, Schools Days to Business Meetings, we have the right space for your needs.
Take a look at our Yurtcamp Map below
Welcome to The Woodland Cafe at Yurtcamp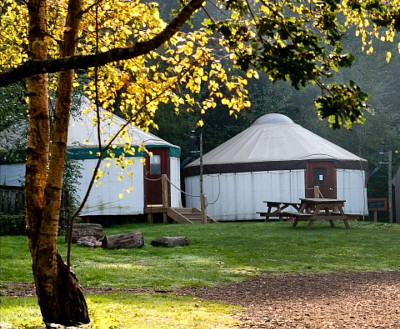 Looking For A Venue For Your Classes?
From Pottery to Yoga, Painting to Fitness we can accommodate you and your classes here in our beautiful setting.
Call to find out more:
01626 824666
"The lovely yurts, the fire pits, the really comfortable beds, the café bar and the helpfulness of everyone exceeded all our expectations".
The Woodland Cafe is the heart of Yurtcamp, and offers a wide variety of food and drink both for our guests and those wanting a completely 'out of the ordinary' venue for wedding receptions, parties or corporate functions, in our Giant Tipi.
The Woodland Cafe serves freshly prepared home cooked food with a local twist, reflecting the rustic character of Yurtcamp, thus adding to your holiday experience. Here you can enjoy a leisurely breakfast, gather with the family for a lovely meal or savour our tasty bites along with your choice of alcoholic and soft drinks. Check out the blackboard for our daily specials.